CHOOSE YOUR LEVEL
FOR FURTHER INFORMATION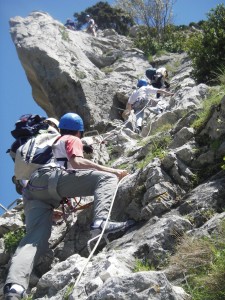 Vía ferrata for Beginners- Level I
 Description of the Activity
Via ferrata is a mountain-climbing method that lets less experienced climbers enjoy views and adrenaline rushes usually reserved for the pros. This is a vertical trail in which you move up thanks to fixed metal cable sections, separated by anchor bolts, and iron rungs. Thereby you do not have to worry searching for hand- and footholds in the rock. Some of them are also equipped with ladders, chains, zip-lines and tibetan bridges. Via ferrata allows you to access areas where it would be difficult to get in by walking and it is suitable for all those that do not do standard rock climbing.
Participants make use of a steel cable installed all along the route to secure themselves. On steep or exposed sections of the route participants attach themselves to the steel cable with a safety cord. This includes a device to disperse the energy produced in a fall and therefore protect the person from the potential impact.
A Level 1 Via Ferrata alternates vertical sections with easier horizontal sections of the path.
Via Ferrata. Requirements
No previous experience is required. This makes it an ideal activity for families as well as for those wishing to experience the feelings of rock climbing for the first time.
It is essential not to suffer from vertigo.
Minimum age 7.
Children need the permission of a parent or guardian. To ensure that children enjoy the activity, it is important that they are keen on sports and nature, and also that they are outgoing in order to get along with the guide.
 Locations: Via Ferratas Level I at the Sierra de Guara.
Via Ferratas are traditionally popular in the Dolomites and other areas of the the Italian Alps. Nonetheless there are also many in France, Switzerland, Germany and increasingly in Spain.
In here, in the surrounding areas there is the "Santo Cristo Via Ferrata" in the Congosto de Olvena (on the Barbastro – Graus road). This route is great for a first experience, with spectacular views over the gorge. The final stretch (optional) is a little more exposed for those who are looking for extra adrenaline rushes Also we recommend for families and Beginners the Via Ferrata of Peñas Juntas in Bierge.
Via Ferrata. List Prices
Half-day Via Ferrata
3 participants: 62 euros
4 participants: 58 euros
5 to 7 participants: 49 euros
Whole day Via Ferrata
3 participants: 80 euros
4 participants: 65 euros
5 to 7 participants: 55 euros
Via ferratas in  Rodellar, Olvena and Eresué are considered full-day activities.
The via ferrata in Bierge is considered a half-day activity.
Special vertical trails or intermediate: Canal del Palomo, Oliana and other unspecified routes that we don't commonly offer – please consult for information on prices and availability.
The via ferrata in Rodellar can be combined with a descent of the Virgen Canyon with no extra cost.
Prices for groups of 8 to 15 only apply when the group book together.
Prices include: a qualified guide, mandatory insurance and technical equipment necessary for the activity. Transport to and from the starting location is not included.VAT included.
We can provide a taxi service to the activities. (Prices on enquiry)
Vía ferrata Advanced Level II
Advanced
 Activity Description
Level 2 Ferratas have a greater incline than level I ones. Speaking from a technical point of view, progression is done along longer vertical stretches. Thereafter, there is a major number of iron rungs and at the same time the verticality feeling is bigger ; many times you will see the abyss under your feet.
Landscapes in level II ferratas are more impressive.
Via Ferrata Advanced. Mínimum requirements
It is mandatory not to suffer from vertigo .
It is advisable to have previously done a level 1 Via ferrata or some climbing. So you already know how it feels like to be hanging of a Wall.
Physical resistance is demanded to a certain level, given that you will permanently be hanging from the iron rungs.
 Locations: More Frequently practiced Level II Via Ferratas in Sierra de Guara
"El Espolón de la Virgen" Via Ferrata (in Rodellar). At the heart of the Sierra de Guara and above one of the most emblematic canyons « Mascún ». Besides the breathtaking panorama, on top you will come accross a shrine strategically settled. Optionally, you can go down the hill by a dried canyon (instead of using a path) so that you can also practice abseiling.
Another similar Via ferrata is Sesué's, in Benasque valley. The only inconvenient is the long driving distance until there (around 1h 30 min.)
Special Level 2 Via Ferratas are Canal del Palomo, Foradada de Toscar, Oliana and Obarra
Via Ferrata Special Level II- Price List
Whole day Via Ferrata

3 participants: 105 euros.
4 participants: 79 euros.
from 5 to 7 participants: 63 euros.
Special or level II ones: Canal del Palomo, Foradada del Toscar, Obarra, Sesué and Oliana
Prices for 8 to 15 participants groups will just apply for groups beforehand organised.
Prices include: specialised guides, assistance and health insurance, required technical equipment. Transport to the starting point is not included. VAT included.
Taxi rides to the starting point and prices are available on request.